Spiritual Care and Counseling
Spiritual Care and Counseling – Pastor Bill Johnson Monticello MN
If you are seeking healing in your life I offer spiritual guidance/direction, spiritual counseling and/or pastoral care that's customized for you and your concerns.  (And I'm not your "typical" pastoral counselor – becuase for me, it's more about relationship than religion, love rather than fear, and life now rather than heaven later.)
I help people come alive more fully in order to flourish by simply helping them to remove the "blocks" to the awareness of love's presence in their life so they can really know themselves as loved, loveable and loving. 
If a "picture is worth a thousand words" – here's what transformative spiritual care and counseling is about.  (It's called the "Freedom Sculpture.")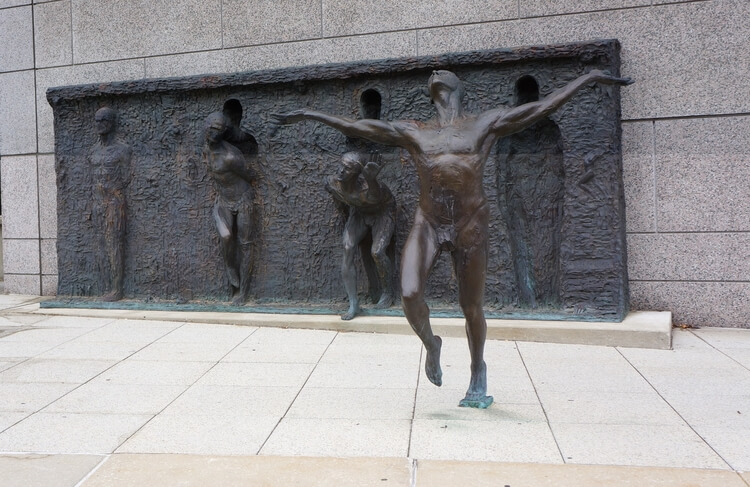 It's about FREEDOM.
It's about COMING ALIVE and living FULLY.
It's about the "knowing the TRUTH that will set you free." (The REAL truth about who God is, who you are and how life works.)
It's about moving from FEAR TO LOVE.
It's about "being TRANSFORMED by the RENEWING of your mind." (Spiritual Mind Training)
I especially help those who want a MORE AUTHENTIC and LESS RELIGIOUS kind of faith.
Short Term Counseling:
Most therapy and counseling seems like it can go on "forever"!  We'll start with just a few sessions and then see what you need from there.  I believe that long term therapy is not needed!  (Been there and done that!!)  Usually, all you might need, after getting started, are optional "check-in" sessions.  (Like going for a massage or getting your back adjusted…)
In Person, Online and "Where You Are" Sessions:
Take some time for yourself and let's talk face to face, or we can connect easily online.  I also take my counseling on the road and can meet you somewhere publicly with privacy, like a coffee shop, if that's of help to you.
Contact me by: phone 612-968-2918, email bill@billjohnsononline.com or through this contact form.
You Decide What to Pay:
Counselor fees usually range between $75-$150 an hour.  I only ask that you pay what you can afford, based on what our counseling is worth to you and the benefit it's providing.
Hours and Location:
Hours:  Most Sunday mornings, some Saturdays, possible weekday evenings.
Location:
I can meet with you wherever you are –  at a coffee shop or public place with some privacy etc.
If local, I use office space at Farmers Insurance Office 228 W. Broadway St., Monticello, MN 55362.
---
TESTIMONIALS
"Bill is an astute and highly skilled pastoral counselor and spiritual guide. His breadth of professional experience is rare, and equips him to engage all aspects of the human condition with compassion, wisdom and authenticity. As one who has worked closely with Bill and who knows both his heart and his intellect, I highly recommend Bill to anyone seeking to deepen their understanding of and connection to the Divine."  (Tim T – Pastor, Counselor, Educator)
"Bill is fully engaged and committed to his clients. He is sensitive and intuitive and will help you understand yourself better. Bill is dynamic and enthusiastic, and will help you garner hope and strength for your our journey toward wholeness and vibrancy. Bill is open and present, and brings his own life experience, his own healing journey, to his work, which gives his great integrity. Bill will inspire you to take yourself, your health (emotional, physical, spiritual) and your possibilities seriously and sacredly."  (Anna Lisa – Pastor, Author)
"Bill has a unique gift for listening deeply into people's lives.  As one who has his own remarkable spiritual journey, he is able to help others wake up to the power and potential in their own lives and spiritual journey.  He listens deeply for, and speaks boldly to, the aspects of our story that are most painful and most hopeful.  If you are looking for spiritual care and counseling, I highly recommend Bill."  (Scott M – Spiritual Director, Educator)
"Bill did an excellent job of assisting me in expanding my awareness of God within and around me. As a valuable teacher in my CPE training his contribution to my growth as a chaplain, pastor, and spiritual caregiver cannot be understated. Thank you Bill!" (Conner S. – Pastor, Chaplain)
"My experiences with Bill both as a spiritual adviser and counselor have been wonderful. Bill has the wonderful ability to listen to what is being said on the surface and pick out the juicy pieces underneath. He has helped me many times to see what my real struggles are and then he's able to help me re-frame these experiences in a life giving way. Bill has a great passion for people, healing, and wholeness that he brings to his profession. I always feel that his guidance is done with great compassion, insight, and never without a touch of humor and fun as well." (Keely M. – Priest, Chaplain)